What's New, Blue? is the fifth episode of Blue's Clues from season four.
Characters Present
Elements
Question: What news could Blue want to make?
Clues:
Answer: Paprika moving from a crib to a bed
Skidoo location: Skidoo News
Living room picture: Various characters reading the newspaper: First, Baby Bear, then Orange Kitten, then Mr. Salt and Mrs. Pepper, then Magenta
Summary
Blue and her friends are trying out new things and so Blue and Steve decide to create Blue's News to document it. Blue practices roller skating, Sidetable makes up a song, Pail tries playing basketball with Shovel and Sifter, Tickety counts up to 20, Slippery makes a finger painting, Mailbox makes up a funny joke, Mr. Salt and Mrs. Pepper talk about their baby and more.
Trivia
This is the first episode from the fourth season to be released on VHS.
This episode is the first of five episodes of a story arc designed to introduce Mr. Salt and Mrs. Peppers' new baby, Cinnamon.
This episode touched upon newspapers were made.
Paprika is a clue for the first and only time.
This episode is the first of two on the video "Blue's Big News: Vol. 1: Read All About It!".
The "Skidoo News" includes visible headlines and even readable text, some in English, others in foreign languages. Sample headlines include:

"Prefeito Billy Chicken tenta reeleiçao" (Portuguese for: "Billy Chicken tries re-election")

Text from Billy Chicken article:

"Felt Friend Travels to Felt Planet"

Text from Felt Friend article: Planet found in the vast space of the felt frame.

"Skinny Pig est un bon Participant a Le Tour de Skidoo"(French for: "Skinny Pig is a good participant at Skidoo's Tour")

Text from Skinny Pig article: Mechanicsville -

"Sarah Scientist Honored"

Text from Sarah Scientist article: Anatomyville - At a big banquet last night, Sarah Scientist was formally honored as the Skidoo News special scientist of the year. "Winning the Nobel Prize was nice," said Sarah, "but this is really special." Sarah will continue to

"Gingerbread Man Parle" - .(French for: "Gingerbread Man Speaks")

Text from Gingerbread Man article: Pastry City -

"La Srta. Basset Canta A Una Multitud para la Firma de su..." (Spanish for: "Miss Basset Sings To A Crowd For The Signature Of Her...")

Text from Miss Basset article:

A Balança Cai Quando um Lado Pesa Mais Que O Outro (Portuguese for: "The Balance Falls When One Side Weighs More Than The Other")
"...Para la Firma De su Nuevo Libro" (Spanish for: "...For the Signature of Your New Book")

Text from Opposite Sister article: Ciudad Opuesta - (Spanish for: Opposite City - )

"News From a Very Big City"

Text from Very Big City article: The latest news from the very big city is that it is in fact getting bigger. City planners are looking into more ways at...

This is the first episode to use the season 4 elements so when Steve sits on the Thinking Chair, Steve is brighter than the Thinking Chair.
In Pistas da Blue (Portuguese) version, the Mailtime footage is the same as Environments.
This was the first episode to air after 9/11.
Goofs
In the Pistas Da Blue Version. When Duarte skidooed in to the skidoo news. The Blue Skidoo, We Can Too was not heard.
Gallery
Watch Episode
The full episode is available on the NickJrPlay YouTube channel. Watching the video requires payment or a subscription.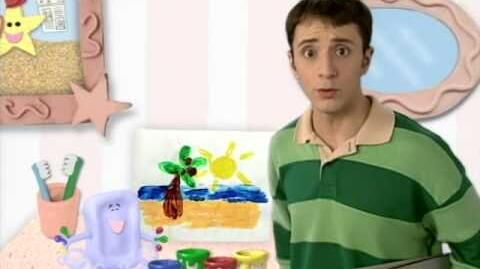 Community content is available under
CC-BY-SA
unless otherwise noted.