We're All Family (alternately known as Family Style) is the main theme song for the Nick Jr. Thanksgiving theme "Family Style" on November 2012 and 2014.
Characters
Note: Characters that sing and/or speak are bold.
Lyrics
Milli and Geo: ♪Brothers Sisters you and me♪
Dora: ♪And everyone in our family tree♪
♪Oh-oo-a-oh, you can count on me♪
Molly: ♪We all go to the park and play♪
Dora: ♪We come together for the holidays♪
Milli and Geo: ♪Oh-oo-a-oh, let's celebrate♪
Molly: ♪Our family♪
Molly and Bot: ♪We're all together♪
Dora: ♪We're all family-ee-ee-ey♪
Gil: ♪Together forever♪
Gil and Dora: ♪We're all family♪
Grandma Bunny: (Oh, look who's here.)
Molly: ♪And no mater how far you roam♪
Dora: ♪We'll always make you feel at home♪
Dora, Milli, and Geo: Oh-oo-a-oh, we're all family♪
Dora: ♪Uncles, brothers, cousins, sisters, BFFs, Mrs.s and Mr.s♪
Boots: ♪We're all part of one big family♪
Videos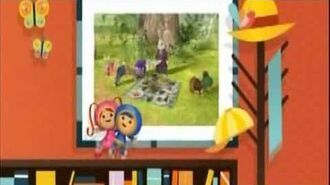 Credits
Creative Director: Jennifer Cast.
Project Manager: Kelly Fentress.
Producer: Jennifer Treuting.
Editor: Rick Deustch.
Animation Director: Christopher Papa.
Design and Animation: Sol Linero and Juliana Pedemonte.
Music & Lyrics: Michelle Lewis & Michael Dennis Smith
Vocals: Ethan Kempner, Madeleine Rose Yen, Fatima Ptacek, Brianna Gentilella, Donovan Patton, Teddy Walsh, and Koda Gursoy.
Community content is available under
CC-BY-SA
unless otherwise noted.