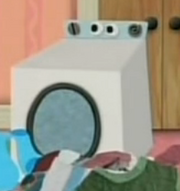 Washer is a washing machine that first appeared in "What Does Blue Need?". She also made cameo appearances in "Magenta Comes Over" and "Blue's First Holiday", and was the answer to Blue's Clues in "Superfriends".
Looks
Washer is a white washing machine. On the middle of her panel are a pair of white eyes with black pupils that are located between 2 dials (the one on the left is a gray circle with a black line for the knob and the one on the right is a gray spiral). Her door (which also functions as her mouth) consists of a clear glass window with a black rim and a hinge. The inside of her is saturated cyan when her door is closed, and dark gray with light gray at the top left edge and dim gray at the bottom right edge when open.
Trivia
She seems to be inanimate in "Superfriends", having 4 small gray buttons instead of her eyes.

In that episode, she was regarded as the washing machine.
In the 2nd movie in "Blue's First Holiday" ("Blue's First Clue"), Washer's inanimate form looked a bit differently with the dials in the opposite position and no buttons between them (unless some were behind the box of laundry detergent) and the inside was a bit more detailed.

The clothes dryer next to her (which was drying Joe's duck blanket) looked similar to her, while its dials were positioned the way Washer's usually were, it is wider and has a black handle on the opposite side of the door's hinge, which opens the opposite way Washer's door opens.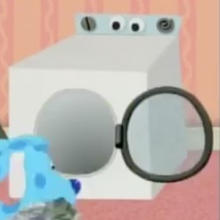 Community content is available under
CC-BY-SA
unless otherwise noted.