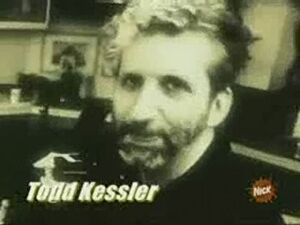 Todd Kessler was the primary creator of the show and its executive producer throughout the run.  He was one of the show's primary directors and directed the Blues Clues direct to video movie Blue's Big Musical Movie. He also was one of the producers for Gullah Gullah Island, and the story editor for Nickelodeon for Little Bear and the co-writer, director and co-producer of the highly acclaimed teenage love story KEITH, based on a story by Ron Carlson.
Episodes Kessler Directed
Season 1
Snack Time (September 8, 1996)
Blue's Favorite Song (October 7, 1996)
Blue Goes to the Beach (with Angela Santomero) (December 2, 1996)
The Trying Game (January 16, 1997)
What Story Does Blue Want to Play? (also the writer) (October 9, 1998)
Magenta Comes Over (October 6, 1997)
Season 2
Blue's ABCs (December 8, 1997)
Blue Is Frustrated (also the writer) (February 1, 1999)
Season 3
Blue's Big Musical Movie (October 3, 2000)
Community content is available under
CC-BY-SA
unless otherwise noted.