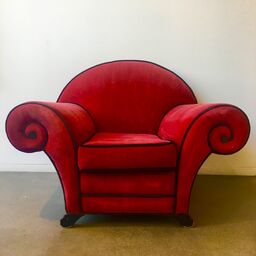 The Thinking Chair is an armchair that Steve, Joe, or Josh sit on to think about the answer for Blue's Clues. It is also sat on during Mailtime when letters and emails are being read.
Prehistory
Before Blue's Clues began production, the Thinking Chair was a regular chair designed and sold by Galerkin Furniture as part of their Max line. It was originally made for a show on the E! Network called Pure Soap, with an extended sofa version to match. The chair itself was produced in various colors such as blue, indigo, purple, and the now-famous red.
Substitute Thinking Chairs
Trivia
The Thinking Chair was the second clue in "Inventions."
Steve was given the original Thinking Chair when he left, and the chair used in the final two seasons of the original series was a replica. It is possible that the season 3-4 thinking chair is also a different chair , because the arms were wider.
Reproductions of the Thinking Chair have appeared at theme parks like Dreamworld and King's Dominion.
Despite that there are substitute thinking chairs in "Magenta Gets Glasses", "Magenta's Messages," "Blue's Show and Tell Surprise", "Blue's Big Neighborhood Adventure", and "Blue's Snowy Day Surprise", Steve, Joe, and Josh did sit on the thinking chair for the Blue's Clues theme song.
In "Nature," Steve doesn't sit in the Thinking Chair because they're outside throughout the whole episode, he sits in the Thinking Rock instead.
In "Magenta Gets Glasses," Steve doesn't sit in the Thinking Chair figuring out the clues because Miranda is over and they sit on the couch instead figuring out the clues together.
Piper O'Possum (the host of Nick Jr. from 2004-2007) sat on the Thinking Chair in a 2006 split screen credit promo for Blue's Clues coming up next.

It was the answer in "Hide and Seek with Blue."
The Thinking Chair is on the front of the notebook, to remind the host to sit in the thinking chair after they find the three clues.
The Thinking Chair is mentioned in "Blue's Big Car Trip" & "Meet Blue's Baby Brother".
The Thinking Chair is absent but made a cameo appearance on the notebook in "Magenta's Messages" & "Soccer Practice".
There was a golden thinking chair in Meet Blue's Baby Brother.
Gallery
Blue's Clues
Blue's Clues & You!
Behind the scenes
Merchandise
Other