Steve Goes to College is the final episode of Blue's Clues from season 4.
Characters Present
Credits
Summary
Steve is going to college and he has to figure out who is going to watch over the Blue's Clues house when Steve is away.
Recap
In this episode, Joe plays Blue's Clues for the first time on his own with his new notebook to figure out what Blue wants to give to Steve when he goes away to college. The clues in this episode are numbers, buttons, and a ringing sound. The answer turns out to be a telephone. After Joe figures out Blue's Clues, Steve enjoys his surprise party. He then says goodbye to everyone and sings the So Long Song one last time before heading off on the bus to college. Later, Joe is settled in and he gets a phone call. It was from Steve. Steve said that he misses everyone, but tells then to have fun and to take care of Joe because Joe needs help sometimes, just like him.
Elements
Trivia
Goofs
Gallery
Watch Episode
The full episode is available on the NickJrPlay YouTube channel. Watching the video requires payment or a subscription.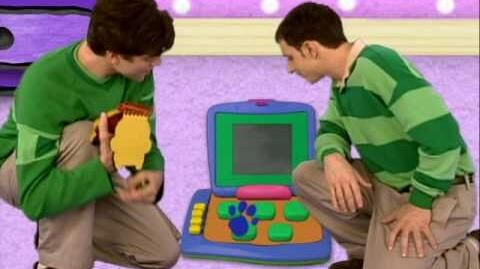 Community content is available under
CC-BY-SA
unless otherwise noted.