"Prehistoric Blue" is the 24th episode of Blue's Clues from Season 3.
Characters Present
Summary
Shovel and Pail discover dinosaur footprints in the backyard.
Elements
Question: What did blue see?
Clues:

1. Scales
2. A Shape
3. Changing Colors

Answer: A chameleon
Skidoo location: A dinosaur diorama
Living room picture: A purple Tyrannosaurus, then a green stegosaurus, then a red pterodactyl
Trivia
This episode would be recalled in "I'm So Happy!", when Shovel told Joe that he used to be afraid of dinosaurs, but is now interested in them.
The third clue changed to three different colors. It changed from blue to green, to red, to orange, and back to blue again before repeating. this resulted in Steve using three colored crayons: he started with a green crayon to draw the first color, then used a red crayon for the second color and then an orange crayon for the third one.
In the intro, Steve and Blue did not appear, which made it a completely instrumental and quiet version, and the episode starts when Steve appears in front of the house, outside.
As Steve opens his notebook, throughout the episode, he gets a surprise (in this episode, it roars like a dinosaur). This also happened in Blue's Big Costume Party.

It was called a "Dino-Notebook".

Turquoise appeared on a call reminder on the cork board.
This is the fifth and last of five episodes in a row where the first clue was found in the living room.
This is the last season 3 episode were the "Race to the Thinking Chair" music was heard.
Goofs
When Blue left the third clue on the ground, it was near the footprints that were found in the backyard at the beginning of the episode and the clue is no where to be seen near the footprints in the present day. Either this proves that clues can wear off of their own after Blue leaves them.
In the Portuguese version, when you see the intro logo, it was English.
When Steve revealed the third clue, changing colors, the third color was yellow instead of orange.
Magenta, Tickety Tock, and Slippery Soap are all mistaken in the credits despite not being in the episode.
Gallery
Watch Episode
The full episode is available on the NickJrPlay YouTube channel. Watching the video requires payment or a subscription.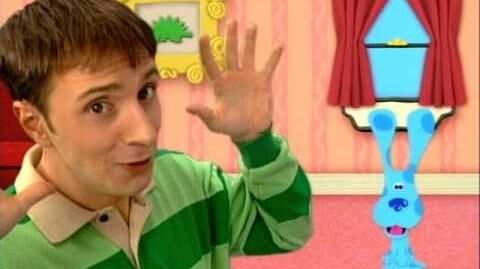 Community content is available under
CC-BY-SA
unless otherwise noted.