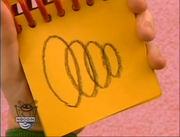 Owl

Species

Owl

Gender

Male

First Appearance
Owl is a nocturnal bird and the answer to Blue's Clues in "What Is Blue Afraid Of?". He is usually awake at night and asleep during the day.
Looks
Owl is mostly brown and tan. It has a yellow beak and yellow feet. Its eyes are white with black pupils.
Appearances
Episodes
The only episode that this owl appeared in was "What Is Blue Afraid Of?". Other owls appeared in "Blue's Big Pajama Party" and "Playing Store".
PC Games
This owl also appeared in Blue's 123 Time Activities as part of Shovel & Pail's Mother May I Game (1-4 owls are among any of the birds or fruit that can appear in the tree), and on the spine of 1 of the books in the introduction of Blue's Treasure Hunt (the one that Owl was on was sideways on top of the book with a frog on its spine).