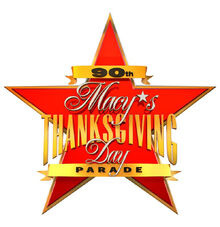 Macy's Thanksgiving Day Parade is a Parade that is held in New York City Since 1924.
The route takes place at 77 Central Park West and heads to 34th Street in 1999-2002 A Blue's Clues float and Balloon appeared. Blue's Clues will return in the 2019 parade to promote the revived series.
Characters
Edit
Steve (Original)
Joe (2002 Parade)
Tickety tock (Original)
Mr. Salt (Original)
Mrs. Pepper (Original)
Periwinkle (2000-2002 Parades)
Mailbox (Original)
Josh (2019)
Description
Edit
The hosts of the 1999 parade are Today Show's hosts, Katie Couric, Matt Lauer and Al Roker
Matt Lauer: Now Katie and Al in There First Macy's parade Debut is Steve Mailbox And Mr. Salt and Mrs. Pepper From the Hit Nickelodeon Series Blue's Clues Together in There First appearance in the parade.
Al Roker: Now for Her Macy's Parade Debut is Blue That Blue Puppy From Blue's Clues With Her pal Steve And Her friends From Nickelodeon's Hit series.
Katie Couric: I Love Blue's Clues.
Don Pardo: Big Bad Voodoo Daddy Rocky And Bullwinkle Fly's into The Sky's And Florence Henderson Sings The Classic Rudolph the Red Nosed Reindeer. When Macy's Thanksgiving Day Parade Returns Live Here on NBC.