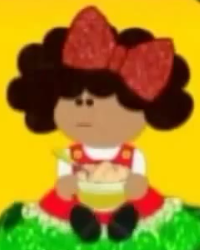 Little Miss Muffet is a character that only appeared in Blue's Big Treasure Hunt. She is voiced by Carol Kane.
Little Miss Muffet is one of Blue's favorite nursery rhymes. Steve and Blue go to Little Miss Muffet who had a problem with her story. Blue says "hi" to Little Miss Muffet. She was so glad someone showed up. So far the story goes "Little Miss Muffet sat on her tuffet eating curds and whey. And then along came a ___." Steve and Blue had to figure out what happened next in the Little Miss Muffet story. There was a bug, a spider and a caterpillar to choose from. The answer was the spider. The rest of the story was: "Along came a spider who sat down beside her and frightened Miss Muffet away." After doing so, the spider gave them the next hint, which led them to Jack Be Nimble.
Community content is available under
CC-BY-SA
unless otherwise noted.