Hide and Seek with Blue is the second episode of season two in the reboot series Blue's Clues & You!. It is a new version of Hide and Seek.
Characters
Elements
Question: What is the best hiding place?
Clues:

The color red.
A chair
A swirl

Answer: The Thinking Chair
Incorrect answer: A chair that swirls and swirls with the color red going for a ride on top
Skidoo Location: "Snail and Seek" board game
Gallery
Watch Episode
The full episode is available on the NickJrPlay YouTube channel. Watching the video requires payment or a subscription.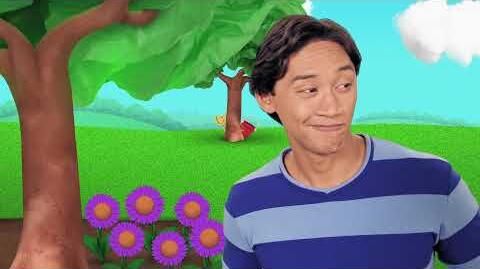 Trivia
This is the first time in the reboot where the viewers interact with the letter.
This is the second reboot episode with the color red as a clue and the fourth time overall.
This is the first time the Thinking Chair is the answer to Blue's Clues. It's the second time it was involved in Blue's Clues outside of sitting in it to think, the first being when it was the second Blue's Clue in Inventions. it was also part of the drawing of the Handy-Dandy Notebook in the aforementioned episode, as well as Blue's Big Musical
Starting this episode, instead of Jaiden Cannatelli being the voice of Cinnamon, Niko Ceci replaces the voice of Cinnamon
Magenta's animation of hiding under the bed/on the bed is just like the original premiere episode Snack Time when Blue did it.

This is also the second time she skidooed into a place alongside Blue, the first time was The Scavenger Hunt.

This is the first time the Snail colors aren't just pink.
The Golden Snail resembles Snail's appearance from the original series.
Community content is available under
CC-BY-SA
unless otherwise noted.