The Handy Dandy Notebook (Super Duper Notebook in the UK Version, Useful Friendly Notepad in the Portugal version, or just Notebook in any version) is a small notebook used in almost every episode of Blue's Clues (mainly the ones where Blue's Clues is played) to write down the clues. Sidetable Drawer keeps it in her drawer when Steve and Joe aren't using it, and at the start of each episode they would go to her to retrieve it.
The name "Handy Dandy Notebook" has been used to describe Steve's notebook (used since 1996 to 2002), and Joe's notebook (used from 2002 to 2006). Common traits that many different variants of the notebook share include a red spiral and yellow paper. The notebook has a crayon in the spiral that reflects whoever owns it. Steve's crayon has a green-striped wrap around it (though if the crayon is a different color, the wrap is the same color with darker stripes), and Joe's crayon has a square pattern wrap that changes color based on whatever shirt he wears in an episode.
It also appears as the first clue in "Draw Along with Blue", "Blue's Big Musical", and "Inventions"; and the answer to Blue's Clues in "Joe Gets a Clue".
Versions
Steve's Notebook
Steve's notebook is square-shaped, has a green front and back cover with black lining, and depicts the Thinking Chair on the front. When Steve went to
college, he started using the notebook to take notes during his classes. This notebook is perhaps the most recognizable, and also comes in different variants.
The same notebook is used by Kevin in the UK version from "Pretend Time" until "Puppets".
Variants
Birthday Notebook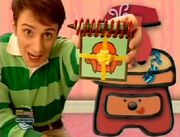 This variant has a yellow ribbon wrapped around it, making it resemble a birthday present.
Treasure Hunt Notebook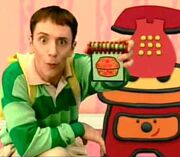 This variant has a red treasure chest with sparkly gold lining on the front instead of the Thinking Chair. It also has a secret compartment on the back cover that holds a treasure hunt hint.
Nighttime Notebook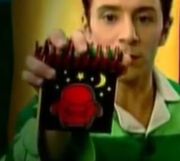 When Steve goes outside at night, the notebook changes to reflect the time. It has a black front and back cover with yellow lining, a yellow moon and stars on the front, and a yellow-lined Thinking Chair. This only happens when Steve goes outside and finds the second clue, so when he finds the third clue in the living room, the notebook changes back. But in the portuguese Verison It was used Troughout the Episode.
Holiday Notebook
This variant has a white front and back cover with a silver snowflake on each corner (each snowflake has a different design), and there is a tall yellow present with a green ribbon on the Thinking Chair. Also, when Steve shakes it, the notebook makes a jingling sound.
Nature Notebook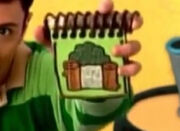 This variant has front and back covers with wooden lining on the bottom and left and right sides, a brown spiral, dark beige paper, a crayon that looks like it was carved from a log of wood, and a front cover that depicts the Thinking Rock instead of the Thinking Chair.
Café Notebook
This variant has a tall rectangle shape with a red crossed fork and spoon on the cover and white papers.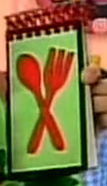 Joe's Notebook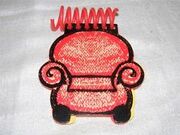 In Joe Gets a Clue, Blue gives Joe his own notebook to play Blue's Clues with. It is shaped like the Thinking Chair, and is thinner and taller than Steve's notebook.
In the UK version of "I'm So Happy!", Kevin is given this notebook by Sidetable Drawer.
Variants
Bedtime Notebook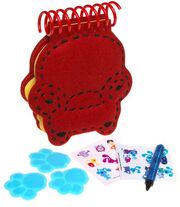 This variant is the same shape as Joe's normal notebook, but is thicker and has a front and back cover made of the same material as a pillow.
Car Notebook
This variant is also shaped like the Thinking Chair, but looks like a car instead of the Thinking Chair.
Notebook Friend
This variant is essentially Joe's notebook with a pair of googly eyes, curly yellow yarn hair, and a green strand with frayed edges for a mouth. Sidetable and later Joe pretended to have it talk with them and others.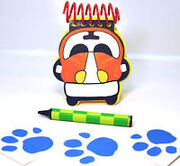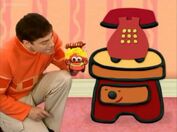 Love Notebook
This is the only variant of Joe's notebook that does not use the Thinking Chair shape. Instead the notebook is shaped like a heart, and the front and back covers are red with yellow lining.
Gold Notebook
This variant comes in gold, and uses a slightly-different design of the Thinking Chair.
Josh's Notebook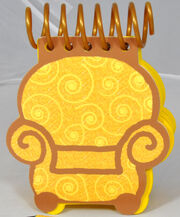 Josh's notebook has the same shape as Steve's Café notebook and has light and dark blue stripes on the cover like Josh's shirt. The notebook also has a phone on the back.
Trivia
Gallery
Toy Releases
Community content is available under
CC-BY-SA
unless otherwise noted.