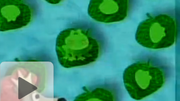 Frogs are animals. Several different frogs have appeared in several episodes of Blue's Clues.
Appearances
The 1st one (pictured here) only appeared in "What Time Is it for Blue?".
The 2nd frog and several others like it appeared in "Pretend Time".
The 3rd frog (Tadpole's mom) appeared in "The Trying Game".
The 4th frog appeared in "What Does Blue Want to Do on a Rainy Day?", "What's That Sound?", and "Blue's Big Pajama Party" (under the tree where the owl was perched on, but only its silhouette was shown due to the dark). A computer version of it appeared in "What Did Blue See?" and was the answer to the 2nd close-up picture during the credits.
The 5th frog appeared in "Words". A lighter green version of it with more detailed feet appeared in "Adventure".
The 6th frog appeared in "The Fairy Tale Ball".
Trivia
A frog resembling the one from "Pretend Time" (without spots or stripes) appeared in "What Does Blue Want to Do on a Rainy Day?" and "Animal Behavior!".

The frog from "The Trying Game" also appeared in Blue's ABC Time Activities as one of the animals in the Safari Snapshots game (this animal is the one that starts with the letter F).
A frog can be heard along with an elephant, an owl, a horse, and a crow when Monkey returned to his page of the Animals, Animals, Animals book in "Animals in Our House?". However, none of these animals are shown and therefore don't appear to be from the book.
A frog was the answer to Blue's Clues in "Dress Up Day".
A dark blue version of the frog from "Pretend Time" with orange spots on its back and a lighter blue belly appeared in the "We Just Figured Out Blue's Clues!" section of the June/July 2003 issue of Nick Jr. Magazine's Noodle along with Monkey's big brother and Giraffe from "Nurture!", Chameleon from "Prehistoric Blue", the Lion from "Words", a red version of Snake from "Rhyme Time", and a purple version of Baboon from "Pretend Time". Click here to see it.
Community content is available under
CC-BY-SA
unless otherwise noted.