Fred

Name

Frederica

Aliases

Fred, Mermaid, Birthday Girl

Gender

Female

Species

Doll
Fredy (Fred for short) is a princess doll. She loves birthdays and pretend that every day is her birthday. Fredy is a high spirited girl with lots of ideas for adventure. She is a nice doll overall. Fredy is caring and generous.
Looks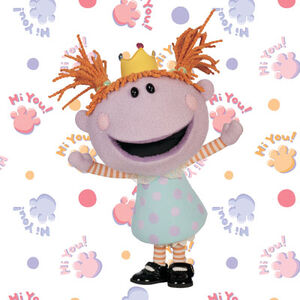 Fredy has purple skin and orange yarn for hair. She has a green and polka-dotted dress. Her tights are white with orange stripes. Fredy's crown is gold in the first stanza if the theme song and in
Knights of the Snack Table
she was dressed as a Damsel in Distress with a Green crown and a Green dress.
Appearances
Fredy appears in every episode of Blue's Room.
Quotes
"It's my birthday, like always!"
"Yes, yes, of course!!"
"Oh, my, Roary! Have you been excercising your voice and your roar?"
"Polka Dots, why do you keep interrupting me?"
"YAAAAAAAAY!"
Community content is available under
CC-BY-SA
unless otherwise noted.