"Environments" is the 29th episode of Blue's Clues from Season 3.
Characters Present
Summary
Steve and Blue teach the viewers about different types of environments.
Elements
Question: Where does Blue want to go for her trip?
Clues:

1. The Sun
2. Sand
3. A Cactus

Answer: Desert
Skidoo location: Mother Nature's World (Globe)
Living room picture: The world map
Trivia
Steve and Blue help Mother Nature with her nature song as they skidooed into the world globe.
This episode mentions a few real-world places.

Steve mentions in this episode that he had a pen-pal from Peru, who lived by a wide curvy river.

Steve also mentioned Kathmandu, the capital of Nepal, as exotic.

This is the last episode where Cody Ross Pitts voices Slippery Soap.
This is one of the only episodes where Blue barks "Blue Skidoo" in the correct pitch.
In Pistas da Blue version of this episode. During the Thinking Time Segment. Duarte's hair from Season 2-Early Season 3 was almost used.
This is the last episode where they have old voices of lines of "Right There!" and "Notebook!" since the early episodes.
This is one of the last episodes where Steve shouts "Mail!" on the right side of the room.
This is the fourth episode to have the "A Clue" line from Blue's Sad Day.
This is the second episode to have a sun, the first one is Blue Wants to Play a Song Game.

They were both the first clue.
Gallery
Watch Episode
The full episode is available on the NickJrPlay YouTube channel. Watching the video requires payment or a subscription.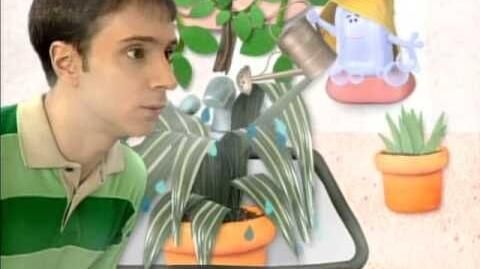 Community content is available under
CC-BY-SA
unless otherwise noted.