Bugs is the tenth episode of Blue's Clues from season four.
Characters Present
Summary
Steve and Blue check out different types of bugs.
Recap
Steve and Blue are going on a bug watching expedition and the viewers are invited to come along. We help them to spot many neat bugs and once they have been found, we learn more about them and also theorize about why they do the things that they do. We also skidoo into a big bug book. There, they meet up with Antoinette, a worker ant on the first day at the job.
Elements
Question: What is Blue's favorite bug?
Clues:

1. Wings
2. Colors
3. A Chrysalis

Answer: A butterfly
Skidoo location: Bug book
Living room picture: A caterpillar, then a ladybug, then a butterfly
Trivia
Steve did not know what the third clue was called until Pail tells him that it is a chrysalis.
All three clues were found outside without skidooing.
This is the fifth time the "A clue" phrase that debuted in "Blue's Sad Day" is used.
The bugs in the video letter are the praying mantis, the Madagascar hissing cockroach, and the giant African millipede.
When Snail appeared in the skidoo segment, he was about the size of Steve and watched as he, Blue, and Antoinette go into the anthill.
The theme music for this episode's clues matches the orange butterfly's theme from "Nurture!".

Coincidentally, both are related to butterflies.

In the UK version, Kevin wore his Bug Hat for the whole episode.
In terms of the American release order, this is the final episode of the Portugal version.
This is the first episode, followed by Meet Blue's Baby Brother to feature three colors as one clue which causes the host to hold three colored crayons at once to make swirls.
Gallery
Watch Episode
The full episode is available on the NickJrPlay YouTube channel. Watching the video requires payment or a subscription.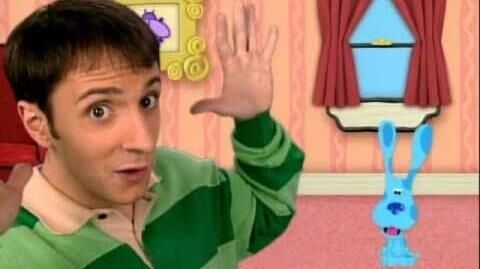 Community content is available under
CC-BY-SA
unless otherwise noted.