Blue Goes to the Doctor is the thirteenth episode of Blue's Clues from season 5.
Characters Present
Nurse Kenny (debut)
Dr. Mya (debut)
Monkey (cameo)
Big Brother Monkey (cameo)
Orange Kitten (cameo)
Summary
Blue is going to the doctor. She is not sick, but she is getting a checkup and so Joe helps her gather the things she needs to get ready, including Polka Dots to hold on to in case she gets scared. The viewers play doctor and nurse with Shovel and Pail and later join Blue for her checkup. After her checkup, Blue has a special surprise for Joe.
Elements
Question: What does Blue want to do after her checkup?
Clues:

1. Blue's White Coat
2. A Bag
3. Joe

Answer: Give Joe a checkup
Place: The doctor's office
Living room picture: A red cross, then a bandage, then a stethoscope, then a reflex hammer
Trivia
This is the first time Joe is a clue.
The present store music from Mailbox's Birthday and Math can be heard in the waiting room.
In the Mailtime Segment, Mailbox shows off a bandage on his flag.

He got a paper cut and put it on there to help the cut heal.

When Joe and Blue head home from the doctor's, the "Blue Skidoo, We Can Too" tune was used in the Thinking Chair theme music.
It is also shown in the movie Imagine That, when Olivia Danielson is watching TV.
Joe wears a blue squared shirt in this episode.
Even though the word "otoscope" has a long "o" in the beginning, it has a short "o" instead, so this is incorrect spelling.
Dr. Mya is the only doctor who gives Blue her checkup while Nurse Kenny takes his break.
Goofs
Joe refers to Polka Dots as "her" in this episode, but the viewers will later learn that Polka Dots is male.
In the Verizon Fios guide of this episode, Steven Burns is accidentally added to the cast.
Gallery
Watch Episode
The full episode is available on the NickJrPlay YouTube channel. Watching the video requires payment or a subscription.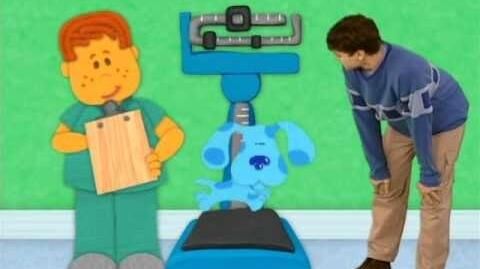 Community content is available under
CC-BY-SA
unless otherwise noted.