Blue's Treasure Hunt is the third episode in season 2 of the reboot series Blue's Clues & You!. It is a new version of "Blue's Big Treasure Hunt."
Characters
Josh (Cap'n McStripes)
Pirate Panda Patrick
Pirate Panda Peggy
Elements
Question: Where is the treasure chest?
Clues:

A Square
Sand

Answer: The Sandbox
Incorrect Answer: Shovel with a square hat full of sand
Skidoo Location: A Pirate Panda Island image
Living room picture: Pirate Panda island (skidoo location)
Summary
Josh (aka Cap'n McStripes) and Blue are playing pirates, trying to locate a treasure.
Gallery
Watch Episode
This episode is available for streaming on Paramount Global's video streaming service Paramount+.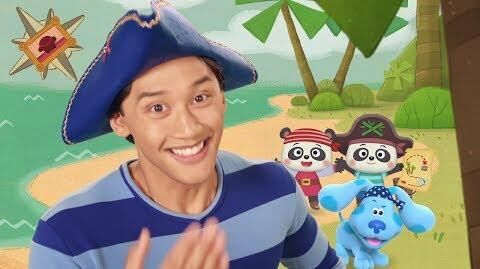 Trivia
This episode is released after "Spooky Costume Party with Blue" and "Thankful with Blue," two Season 1 episodes, were released on DVD.
This is another episode where Josh wears a hat for an entire episode.
This is the first episode ever to be pirate-themed as a whole. "Blue's News" was pirate themed for a piece.
This is the first episode in the reboot to show the bathroom.
This is the first episode of the franchise that Shovel is a clue. The others being Steve, Mr. Salt, Mrs. Pepper, Mailbox, Green Puppy, Magenta, Turquoise, Blue, Paprika, The Viewer, Joe, Periwinkle and Josh from Magenta Comes Over, Playdate with Magenta, Blue's News, Big News with Blue, What Does Blue Want to Do with Her Picture?, Blue's Sad Day, Sad Day with Blue, Nurture!, What Is Blue Trying to Do?, Weight and Balance, Magenta Gets Glasses, Getting Glasses With Magenta, What's New, Blue?, Mr. Salt and Mrs. Pepper Day, I'm So Happy!, Blue Goes to the Doctor, Blue's Predictions, Magenta's Messages and Joe's Clues.
Shovel was drawn once from Draw Along with Blue when Steve and Marky drew shovel.
This is the first episode in which the three clues and the answer to Blue's Clues all start with the same letter, despite the fact that letters and words is not the main theme of the episode, unlike "Blue's ABCs" (including its reboot "ABC's with Blue"), "Words", "Rhyme Time" and "The Alphabet Train".

In fact, out of the aforementioned episodes, only "Rhyme Time" from the original series had something in common for the three clues: they all end in the same syllable.

This is the second episode after The Thinking Squad where Josh uses a different voice.
This episode was the second time that Josh pretended to be a pirate. The first was "Big News with Blue". He also pretended to be a pirate in "The Pirate Panda's Sleepy Treasure Hunt".
This is the second episode in which Josh does not play his guitar during the "So Long Song", after "Growing with Blue". He plays the flute from the treasure chest instead.
This episode was the first time Josh and Blue skidooed to Pirate Panda Island on TV. The first time in general was "The Pirate Panda's Sleepy Treasure Hunt" over almost 2 months before release.
A sneak peek with the first 2 minutes was released on September 23, a week before the episode aired.
"Treasure Hunt with Blue" was a working title for this episode, but it was changed to "Blue's Treasure Hunt" a few weeks before release to match the new title pattern (Blue's subject) introduced for this season.
One of the puzzles has a Squid Game reference.