"Blue's Night Before Christmas" is the sixth episode of the second season and the twenty-sixth episode overall in the reboot series Blue's Clues & You!. It is a new version of "Blue's Big Holiday."
Summary
It's Christmas time with Blue and Josh! We play Blue's Clues to figure out what Blue wants for Christmas, wrap presents with Joe, and decorate with Steve and celebrate lots of Christmas traditions! We even visit Santa's workshop!
Characters
Elements
Question: What does Blue want for Christmas?
Clues:

A Song
You (The Viewer)
A Bell

Answer: Sing the song "Jingle Bells" with the viewer
Skidoo Location: Santa's Workshop
Living room picture: Joe's present store, then a gingerbread house
Recap
Coming soon.
Gallery
Watch Episode
This episode is available for streaming on Paramount Global's video streaming service Paramount+.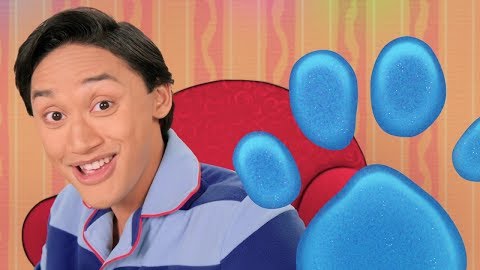 Trivia
Santa Claus makes his first appearance in "Blue's Clues & You!".
This episode was filmed and produced in 2019. The episode was heard on sources a year before release.
This is the third holiday episode in the reboot after "Thankful with Blue" and "Spooky Costume Party with Blue."
This episode aired on December 4, 2020, 3 weeks before Christmas.
This is the second episode in which the Viewer is a clue, the first being the Blue's Clues episode "I'm So Happy!", around at 18 years before this episode.

Like last time, Blue actually was seen sticking the pawprint on the Viewer.

This is second episode to have Steve in the reboot. It's also the first episode featuring him since Meet Josh!, and the first time he comes in season 2, and the only time he appears in 2020.

This is also the third Christmas episode to have Steve, and the second to have him in person. In "Blue's First Holiday," he is only heard on the phone and seen as a child. The first time in person was "Blue's Big Holiday."

This is Joe's fifth appearance in the reboot, with Meet Josh!, 123's with Blue, Happy Birthday Blue and Bluestock (Blue's Clues & You!) being the first four.
Santa and his reindeer appear as shadows flying over the buildings. Santa also says "Merry Christmas to all and to all a good night" which is the last line from the story "The Night Before Christmas."
Unlike other holiday episodes, this one focuses on solely Christmas.
This is the first reboot episode where The So Long Song was not sung.

Due to singing Jingle Bells, there was no time left to sing it.

Starting this episode, instead of Shechinah Mpumlwana being the voice of Paprika, Abigail Nicholson replaces her as the new voice of Paprika.
This is the first Season 2 episode in the reboot series to not have a wrong answer.

Most likely there was no possible wrong answer for those clues.

Josh does not interact with Sidetable Drawer, because he has his notebook/phone with him already, this is the 5th time this has happened.
This is the twentieth time where there were riddles and rhymes that were used and rhymed. The others being Blue Wants to Play a Game, Tickety's Favorite Nursery Rhyme, Blue's News, What Does Blue Want to Build?, Blue's Big Treasure Hunt, Blue's Big Costume Party, Blue's Big Pajama Party, Adventure, Rhyme Time, Bedtime Business, Big News with Blue, Pajama Party with Blue, Spooky Costume Party with Blue, Joe's Clues, Skidoo Adventure and The Legend of the Blue Puppy.
This is the second time an adult is in a video letter.
Josh's Footages for the Blue's Clues & You! Theme Song is rerecorded for this episode.
Josh's voice seems to be very high pitched in this episode at some points.
This marks the ninth episode in the franchise where music was drawn. The others being Blue's Favorite Song, Song Time with Blue, What's Inside?, Mailbox's Favorite Treasure, The Scavenger Hunt, Story Wall, and Bluestock (Original/Remake).
Goofs
Blue pulls out Josh's regular notebook instead of the Christmas notebook.

This was like the original series for all the different variants of the notebook except for the Birthday notebook.