"Blue's Big Costume Party" is the 21st episode of Blue's Clues from Season 3.
Characters Present
Summary
Steve and Blue host a costume party.
Elements
Question: What could Magenta wear to the costume party?
Clues:

1. Little Prints
2. Whiskers
3. A Squeak Sound

Answer: Mouse costume
Living room picture: Boo's Haunted house (also the skidoo location, same as What Is Blue Afraid Of?)
Quotes
Steve: What is this thing you call clue
Trivia
This episode is a Halloween special.
This was surprisingly filmed before Blue's Big Pajama Party.
The term Oogla Boogla was previously mentioned in the Mailtime segment back in the Season One episode "Blue's Story Time".
Throughout this episode, Steve gets a spooky surprise whenever he opens his notebook.
In the Mailtime song, Blue does not join in the singing.
This is the first episode to use the "A clue! A clue!", "Right there!", "Notebook!", "Thinking Chair!" and "No!" phrases.
This is the last episode to use the "Right there!" phrase from Math!.
This is the only Season 3 episode that Steve gives a wrong guess.

This is also the only time where Steve gives more than one wrong guess, and the only time when he observes each of the clues individually.

This is the third time Steve gets the mail at the end.
This is Boo's second and final appearance on the original show.
The felt board picture shows Freddy and Fifi wearing their alien and astronaut costumes (respectively) from "Magenta Comes Over".
This is the 3rd time Blue was peeked into the leaves from "Blue's Big Mystery" and "Thankful".
This is the second last episode of season 3 were Steve ended The Mailtime Song on the right side of the screen.
This is the last episode where Steve skidoos into the Living Room Picture Frame and into something off the ground.
This is the only time "Hi, Steve!" is never said at the beginning of the letter.
Gallery
Watch Episode
The full episode is available on the NickJrPlay YouTube channel. Watching the video requires payment or a subscription.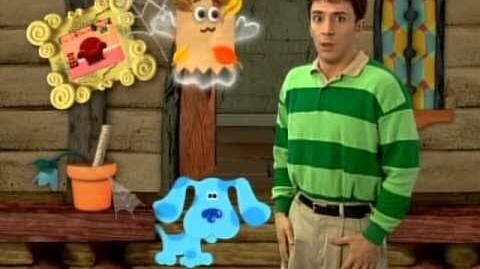 Community content is available under
CC-BY-SA
unless otherwise noted.