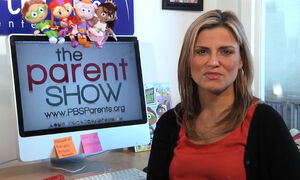 Angela Santomero (born April 26, 1968) is one of the three creators of Blue's Clues. From Season One to Season Four, she was the head writer. She has also created the highly successful preschool literacy series Super Why! and the Mister Rogers' Neighborhood spinoff Daniel Tiger's Neighborhood (both produced by Out of the Blue Enterprises). Before Blue's Clues, she first started working on Nickelodeon in 1993 as a researcher and content manager for the first two seasons of Gullah Gullah Island and Allegra's Window, both Nick Jr. shows that were filmed at Nickelodeon Studios in Orlando, Florida.
Episodes Santomero Wrote
Season 1
Snack Time (September 8, 1996)
What Time is it for Blue? (with P. Kevin Strader) (September 16, 1996)
Mailbox's Birthday (September 23, 1996)
Blue's Story Time (also a performance director and the voice of Mama Bear) (September 30, 1996)
Blue's Favorite Song (October 7, 1996)
Adventures in Art (with John Morning) (November 25, 1996)
Blue Goes to the Beach (also was the co-director) (December 2, 1996)
Pretend Time (February 17, 1997)
A Snowy Day (December 23, 1996)
The Trying Game (with John Morning) (January 16, 1997)
Blue Wants to Play a Game (March 16, 1997)
The Grow Show (April 21, 1997)
Blue Wants to Play a Song Game (with Michael Smith) (April 28, 1997)
What Does Blue Want to Make? (October 13, 1997)
What Is Blue Afraid Of? (October 27, 1997)
Blue's News (October 20, 1997)
Season 2
Steve Gets the Sniffles (November 3, 1997)
What Experiment Does Blue Want to Try? (February 9, 1998)
What Does Blue Want to Make Out of Recycled Things? (May 18, 1998)
Blue's ABCs (December 8, 1997)
Math! (December 15, 1997)
Blue's Birthday (June 14, 1998)
What Does Blue Want to Do on a Rainy Day? (October 12, 1998)
Blue's Surprise at Two O'Clock! (October 19, 1998)
Blue's Sad Day (October 12, 1998)
What Game Does Blue Want to Learn? (with Jennifer Brackenbruy) (November 2, 1998)
Season 3
Blue's Big Treasure Hunt (March 14, 1999)
Season 5
Bedtime Business (September 16, 2002)
Community content is available under
CC-BY-SA
unless otherwise noted.