Adventure is the 4th episode of Blue's Clues from Season 4.
Characters Present
Summary
Steve and Blue use their imaginations as they go on a quest to rescue King Horace captured by Periwinkle the Kitten Castle Keeper.
Elements
Question: What should Steve and Blue be to get up to the top of the sky?
Clues:

1. A Person
2. A Sound (Boom)
3. Really Big Shoes

Answer: A Giant
Skidoo location: A fantasy book
Living room picture: A dragon, then a horse, then a jester
Video Releases
Watch Episode
This episode is available for streaming on Paramount Global's video streaming service Paramount+.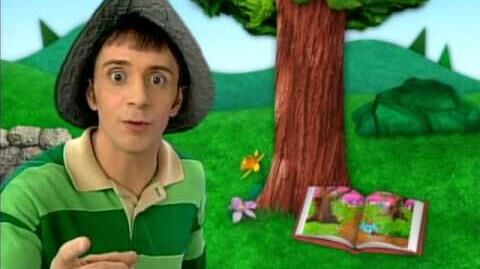 Gallery
Trivia
Troll does not appears in the end of the episode because he was very busy.
Jacob Cherry, related to early Season 4 friend Matthew Cherry, is a friend of Steve in this episode.
Steve said "Giant Steps" from Blue Wants to Play a Song Game.
This is the first episode where Jonathan Press voices Shovel, since Blue's Big Musical Movie.
This is the only episode to feature a sound like the second clue. Usually, a sound would be the third clue.
This is the second episode to have a booming sound like one of the clues. The first was What's That Sound?.
This episode is included as a bonus on the DVD Little Blue Riding Hood.
This is the first episode to use the new intro, but with nobody in it, except for Periwinkle and Magenta.
At the end of the letter, trumpets play the ending of "We Just Figured Out Blue's Clues" instead.
The skidoo characters appear in the Adobe Flash story, "What's In The Box?".
Running Gags
Steve talks like he's an actual knight as if he and the gang were in the medieval times.